AWARDS: THE FIRST TIMER'S GUIDE
---
We appreciate that entering Cannes can be a lengthy process, so we have several tools in place to make it easier. The first thing you may want to consider is getting in touch with one of our dedicated awards experts to help you with eligibility and category selection.
Eligibility – What can I enter?
Check our key rules to find out if your piece of work is eligible for entry.
The main points to consider are
When your entry launched or aired.

Whether you have permission from the client/brand to enter.

You have applicable legal rights for the media included in your entry.
See full list here
Track Map – Where can I enter?
This is a map of our Awards, or as we call them: Lions.
Tracks (e.g. Reach) group together similar Lions.

The Lions are what you seek to win. They represent a different specialism within the creative and related industries.

Within each Lion are further categories. There are nearly 600 categories within the 28 Lions –the full list is available in

Entry Kit 1

You can enter in up to six lions plus Titanium.
The Awards Architecture
If we delve into one of the Lions as an example of the awards architecture, you will see that
Tracks

are made of Lions.

Each

Lion

is comprised of

Sections.

Sections are made up of

categories.

Categories

are what you need to focus on when aligning your entry to the options available.
Full information in Entry Kit 1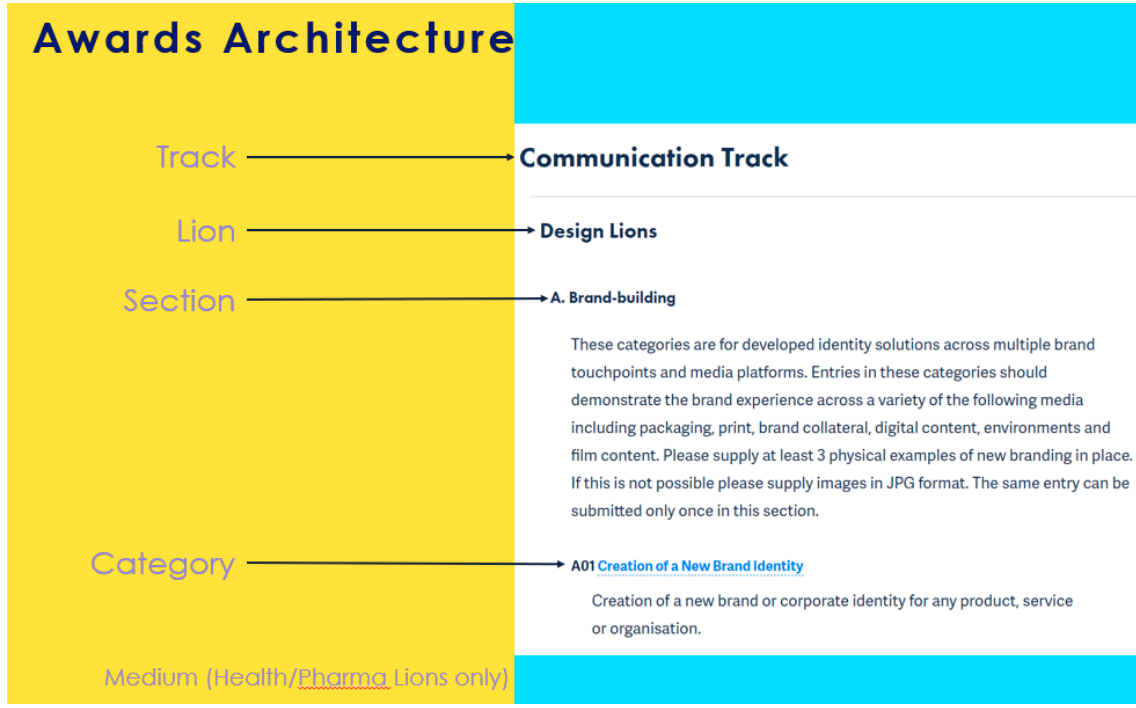 Brand new Lion: Creative Business Transformation.

Refresh of the Creative Effectiveness Lions and PR Lions.

Two new sections of categories within Film Craft Lions: Production and Post Production and the addition of a new category, Colour Correction / Grading.

Culture & Context categories added to Outdoor and Print & Publishing Lions.

Expanded the Culture & Context section of categories to include two separate categories for Social Behaviour and Cultural Insight.
Find full information about the new Lion and all other changes for 2021 here
Entry Kits – What are the requirements, questions and rules in detail?
The 3-part Entry Kit is a handy guide for the entire entry process.
Whether you're a first timer or seasoned pro, the Entry Kits have all the details you need to enter Cannes Lions 2021.
To help you select the relevant Lions and categories and find out what specifically, you will need to submit.
Entry Kit 1 – All the Lions and categories including their judging criteria and material/ media requirements.
Entry Kit 2 - Sample entry forms. Entry Kit 2 is an offline version of the entry form for all Lions and categories. Get a head start on the questions and fields, anticipate the juries' expectations.
Entry Kit 3 - The Rules. Entry Kit 3 contains our position and rules regarding refunds, awards calculations and crediting. This is where to find out how you should credit contributing companies and so much more.
Download them from our site
We know that one of the most important success factors is choosing the right Lions and categories for your work, so we offer expert feedback at any stage of the process.
I

f you have rough cuts, a link or description of the work you are thinking of submitting then send them over to awards@canneslions.com

We will create a long list of eligi

b

le Lions & categories suited to the campaign that you may wish to consider when enterin

g.